Rimrock Writings is pleased to announce the availability of a new book by author Duane Helweg, Lone Survivor At Shiloh.

The book tells the intriguing story of cabin era life including; "wooin' and marryin' and birthin' and buryin'." It also includes the actual original land history before and after the Battle of Shiloh, and, descriptions from a variety of sources for the battle events themselves, that took place near this surviving civilian cabin. The story goes on through reconstruction, ownership changes, a local 1880's memoir and the Shiloh National Military Park development, as described by newspaper transcriptions. On a more personal side, the book reveals the painful struggles of a family feud, diary transcriptions in 1901 by a local resident and another memoir by an early 1900's park resident in addition to more recent stories of "Hollywood" calling, archeology digs nearby and battle anniversary celebrations at the park. The book is a close up look at historic events surrounding a log cabin built by 1848, standing yet today in 2011…a true American relic.

Known as the Manse George Cabin in the park today, initially as the War Cabin, it was orginally built by the Lewis Wicker family and is the subject source of the books history.

Thank you for visiting our Internet site. We want to give you the opportunity to stay in touch with us, so please see our Contact page for more information. Let us know if you have any questions, and we will be more than happy to help.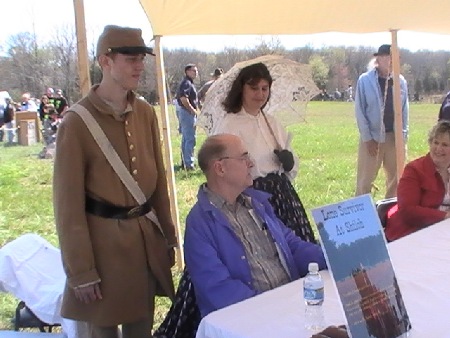 Author Duane Helweg (seated center) book signing for a re-enactor couple at the Battle of Shiloh anniversary week end on April 4-5, 2009, Shiloh National Military Park, TN.

Duane has won a writing award from the Texas State Genealogical Society: